Being a heavy adult, the most stressful and hardest thing is to commute by foot. Does not matter whether there is only a short walk to a nearby store, or to work, or even on campus, there is never a fun walk involved. But what if a heavy person could make commuting more enjoyable? So, keeping this in mind, I am going to talk about a reasonable alternative that will surely make commuting easy and comfortable & that alternative is Kick Scooters.
Kick scooters are a great way to get around. They are affordable, lightweight and easy to use. They are also a safe and easy way to get around for adults who are struggling with mobility at work or at home. Talking about home, we have bed frames and gaming chairs for heavy people.
What Exactly a Kick Scooter is?
A kick scooter is basically a human-powered vehicle that always depends on the amount of energy being exerted by a human body in order to move forward. Although, kick scooter is lightweight, it is well-equipped to handle a heavier load. But different kick scooters have different types of load capacities.

What is the Basic Difference between An Electric Scooter and Kick Scooter?
When someone decides to purchase a scooter, the foremost question that might come to his mind is whether he wants a kick scooter or an electric scooter? Because this will make the buying process easy and hassle-free. Arguably, a kick scooter is the simplest form of personal mobility tool. It might be a simple alternative to electric models as it does not require any source of power or even complicated controls. A person can easily push off with his foot & go. A good quality kick scooter can easily maintain a constant 10 mph speed.
Whereas, an electric scooter is basically a great invention in the field of transportation. As compared to other alternatives, an electric scooter is run by electricity thus, making it more efficient and convenient. An electric scooter can usually move at speeds of 19 mph & get fifty miles on single charge.
How Fast Can Someone Go on the Kick Scooter?
Well, kick scooters are all about fun and enjoyment while being easy to ride; however riders have to know their limits before using them. On average, a kick scooter rider can easily go between 11-12 mph on flat surfaces with little physical exertion needed for pushing off from 1 foot than balancing himself back up on his other leg while he pushes against it for a second time. However, if this is extremely hard, some speedier scooters allow riders as fast as 16+ mph while riding downhill as compared to walking.
Can a Kick Scooter Support Heavy Adults?
Even though, majority of people think of kick scooters as kid toys, they are now being designed for adults as well with some models exclusively dedicated to heavyweight persons. Some kick scooters are capable of carrying a weight of 150 Ibs & then, there are few that can easily handle a load of 200-250 Ibs. So, while looking for the new kick scooters, it is important to consider the loading capacity. Few kick scooters are made to be used particularly by heavier adults.
Reviewed: Kick Scooters for Heavy Adults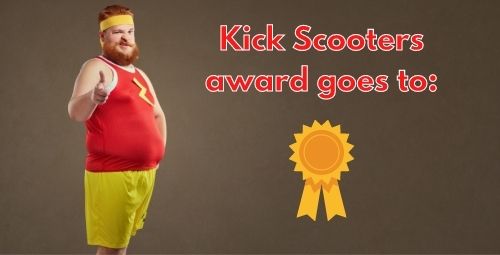 There are countless options out there therefore, it can be extremely difficult to pick the right one. So, in order to give readers a quick overview, this article will review the 5 best products currently available on the basis of mileage, speed, portability, and some other advanced features.
Xootr Mg Kick Scooter
I bought XOOTR MG scooter from Amazon a week ago and I love this gadget. It is making my daily commute quicker- and a lot more fun! I use my scooter to go to the bus stop, which can be quite far away. I've walked several times, but instead I've begun using the scooter for 30-minute workouts without taking the bus.
A worth buying kick scooter that will make daily commute easy, safe, & enjoyable. And, when the brand claims that the scooter is extremely sturdy and well-made, they are not kidding. It supports a heavy adult with utterly no hint of structural strain & reduced speed. The finish and fit are completely at an order of magnitude as compared to other kick scooters. Well, the scooter is definitely fast enough to scare inexperienced or senior guys who have not done anything like this, however it is important to mention that virtually each push scooter in the $30 is faster.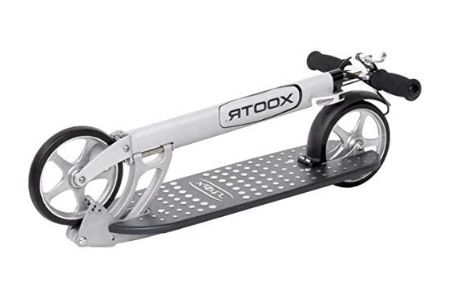 While the brand claims that their low resistance bearings & cast aluminum wheels are the difference makers but I think the main strength of the Xootr Mg kick scooter lies in its brakes. On the other hand, its folding mechanism needs a learning curve as users should aim the front wheel flawlessly with the base of this scooter to fold it correctly.
Pros:
Can supports upto 800 pounds
Long and wide platform
Give comfortable cruising
Very well-made
Give the best value for money
Cons:
Not a good option for sidewalks
---
CITYGLIDE C200 Scooter
With the whole pandemic stuff, this product has come to be a blessing. The product is very well-made, easy to open & fold. It works, probably the best kick scooter out there because it is easy to fold together with no issues. Cityglide kick scooter is a way to go if someone is proportioned with his/her weight. However, this scooter supports a heavy adult just fine.
Well, just remember that this is not an off road go anywhere scooter. Riders will be safest on flat and solid surfaces. There are basically two huge rollerblade wheels & rider can get some serious speed going on so, it is advised to be safe & use its heel brake while going too fast. On the whole, the kick scooter itself is great however, the plastic bit that is used to fold & unfold it broke off easily. So, I would suggest that that piece should be made of metal.
Pros:
Premium quality construction
Weight capacity is 220 Ibs
Available in 4 colors
Runs perfectly well in different surfaces
Give a smooth & comfortable ride
Cons:
Dual brake system is not included
---
Swagtron K8 Kick Scooter
For novice kick scooter riders, the Swagtron K8 is great to start with. Solid board, large wheels, & enough weight to make it forgiving of crashes & small debris, the K8 kick scooter is a way to go. It gives a very smooth & fun ride & since it is extremely sturdy, there is no need to get worried about it breaking any time soon. The handles are comfortable & the bell may prove useful from time to time. Here, I would like to share that the scooter's big wheels make it easier & safe for everyone riding off road.
Overall, it's a good built, folds up without much effort & can easily support upto 220 pounds. Undoubtedly, the Swagtron K8 kick scooter has a decent and sleek design & an easy to fold technology but needs twisting the wheel out of the way. I would recommend prospective buyers consider purchasing this only for even grounds & anything below a 10 degree angle downwards for a novice because of its rear brake.
Pros:
Give impeccable performance
Best foldable scooter
Rides perfectly
Very flexible
Excels in portability
Cons:
---
Angotrade Adult Kick Scooter
This cute yet stylish, kick scooter is amazing. The scooter has exceeded all the expectations when it comes to quality and durability. It is a very lightweight one, yet quite heavy-duty with aluminum frame & kick board. Truly loved the oversized wheels as they look more robust & give good performance at a high speed. Furthermore, the Angotrade kick scooter has the foot back brake along with safety features.
The suspension system is top grade & a pleasure to hit the pumps to simply glide over them. On the other hand, few of the bolts might lose with the passage of time therefore, it is advised to check that everything is tight. There is also a little vibration while riding but surely not anything that will bug riders. Overall, for only commuting & riding around town, Angotrade is a good option.
Pros:
Sturdy materials
Can hold riders upto 220 pounds
Oversized wheel design
Effortless folding system
Very lightweight
Cons:
---
Razor A5 Kick Scooter
Before moving ahead, I would like to share that Razor A5 truly lives up to its product description. Build quality is very solid, aluminum welds are neat & even. The best thing is that there is plenty of adjustability to allow a tall and heavy person to use it easily. Stability seems to be much improved with large wheels, & this scooter is much tolerant of small obstacles. It folds out & locks easily.
Well, you will have to adjust the handlebars alignment with the front wheel in order to ensure that you will steer straight; however this comes with an Allen wrench required to do that. Additionally, the kick scooter itself can hold a lot of weight even though it does rattle a little over bumps. Only concern is related to wheels that are solid but not air-filled therefore, they do not ride well on very bumpy roads & gravel.
Pros:
Offer comfortable and smooth ride
Easy-adjust handlebars
Super strong
Easy to fold
Solid build
Cons:
Buying Guide: Kick Scooters for Heavy Adults
After looking over the best-rated kick scooters individually, it can be said that all of them can meet the requirements of heavy adults. However, depending on the scooting needs, it is important to consider some other factors as well that will be discussed in this buying guide.
The first factor to take into account is whether or not your budget allows you to buy a new scooter or if you want to save money by getting used ones. If you choose to purchase a brand new scooter then you should know how to maintain it properly so that it lasts longer. You should always keep it clean and free of dust particles. Also, you must remember to lubricate the bearings regularly. This means that every month you should change the oil and grease inside the motor shaft bearing.
What Makes the Best Kick Scooter for Heavy Adults?
There are many things that should be considered before buying the best kick scooter. Whether prospective buyers are going to use the scooter for daily commuting or even leisure purposes, it always needs to fit their height and weight. Apart from this, the following factors are also important:
Wheel Size:
This factor is the most important one to consider. As compared to kid scooters, adult kick scooters have to be durable with very tough wheels that can bear regular use. Usually, smaller and thinner wheels always pickup speed in a better way.
Deck Size:
This is basically known as footplate & enhances the rigidity and strength of the scooter. It is better to consider the decks made of aluminum. Wood decks give riders a very responsive & flexible ride. Likewise, deck height matters a lot, a low deck height simply means more comfort while riding the kick scooter.
Size:
No doubt, the size of the selected kick scooter is important in order to enhance its comfort and performance. Prospective buyers should also consider their height, weight, and age before getting one.
Brakes:
They are crucial particularly in crowded places, since numerous stops & starts are required to avoid unforeseen situations. The chosen kick scooter must have premium-quality & reliable brakes.
Handle-Bars:
If buyers are looking for better control, all-round comfort, & steering than, they should buy a kick scooter with the best pair of handlebars. Moreover, they should consider buying a kick scooter that comes with durable and adjustable handlebars.
Some Safety Tips While Riding a Kick Scooter
Whether people are riding the kick scooter on their daily commute route or even in the parks with their mates or kids, scooter riding must be fun & enjoyable. As an adult, safety should be your top priority. Many manufacturers always recommend using elbow/knee pads & helmets. Moreover, they should always be careful about the surfaces they are using & adjusting the speed and riding style accordingly. Another important tip is, to keep the kick scooter in a good condition in order to avoid unanticipated mechanical failures.
What are the benefits of kick scooters for heavy adults?
For heavy adults, it can be difficult to get around using just your own two feet, but it's much easier to use a kick scooter. These scooters are designed for people that weigh more than 200 lbs. With the help of these scooters, it's possible to traverse obstacles, avoid exhaustion, and get around much more easily. For heavy adults, it can be difficult to get around using just your own two feet, but it's much easier to use a kick scooter.
These scooters are designed for people that weigh more than 200 lbs. With the help of these scooters, it's possible to traverse obstacles, avoid exhaustion, and get around much more easily. For people that are not only heavy but also tall, the scooter is an effective way to get around. The scooters are designed with sleek, stable designs that are easy to control. They are also designed with a wider wheelbase to make it easier for people to balance.
What makes a scooter good for heavy adults?
Scooters are usually designed for people under 100 pounds. However, if you are a heavy adult, you might struggle to maneuver a scooter. Here are some features that make scooters good for heavy adults.
1. A heavier adult should look for a scooter that is designed with extra-wide wheels to bring stability.
2. Heavy adults should look for a scooter that is designed with wide, comfortable, and thick handles.
3. Heavy adults should choose to purchase a scooter that has a wider than usual deck. This will provide more stability.
4. Heavy adults should look for a scooter with a larger seat, longer handlebars, and a stronger, wider seat. These features will make it easier for you to ride the scooter, especially if you are carrying weights.
5. Heavy adults should also look for a scooter with a larger seat. These features will make it easier for you to ride.
6. Heavy adults should look for a scooter that has an extra
What Is The Average Weight Of A Scooter
The average weight of a scooter varies depending on the make and model, but is usually 250lbs or 115kgs. They are lightweight and easy to move around heavy traffic because it can be maneuvered in tight spaces. The scooter is designed to be used in the city or around town.
Conclusion:
In the end, it can be concluded that in order to get the right kick scooter, a heavy adult should go for a lightweight yet premium-quality product in order to ensure that it will last long. Furthermore, a good quality kick scooter is important for all those heavy adults who use it for daily commuting due to weight issues. It is recommended to pressure the above-reviewed products & settle on the one that fits your commuting needs.