Are you tired of changing dress or formal shoes very often because they are not comfortable? I consider my self to be one of those people who cannot wear any shoes, I have to be very careful to choose the shoes coz not every shoe fits me comfortably. A comfortable pair of dress shoes can surely elevate one's regular office outfit to another level when it comes to comfort and style. And, due to the wide range of available options, selecting dress shoes for men that are both comfortable and stylish can be difficult to find.
But, I did all the hard work and selected the following 5 brands of dress shoes that have a great comfort rating among men. It is vital to mention that dress shoes do not have to be costly & complicated, either. In fact, it is good to have a good pair of brown and & pair of black, & a pair of slip-on and lace-ups. In this article, I am going to focus on those dress shoes that will not leave the wearer's feet sweaty, aching, and tired at the end of the day.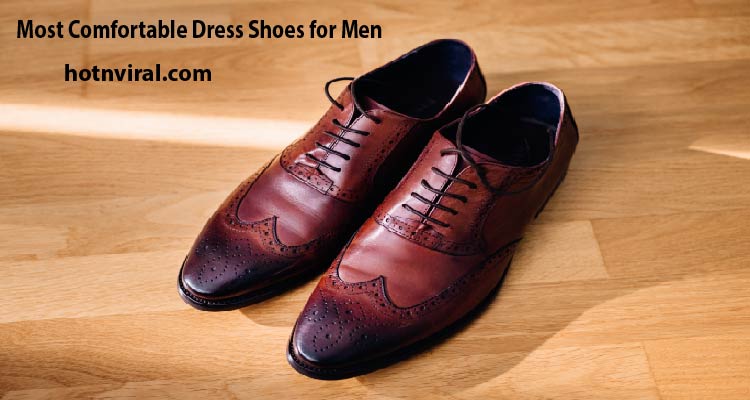 Comfort vs. Style- Finding the Perfect Balance
All the shoes here are for semi-formal or dressy occasions, actually office work shoes. Always remember that not all comfortable dress shoes for men are as versatile and stylish therefore, this guide excludes a few good candidates because they do not meet the standards of conventional men's fashion.  For elders, comfortable shoes that also look stylish are usually less of an option & more of a requirement. With comfortable shoes comes a comfortable belt, check it here.
Reviewed: Most Comfortable Dress Shoes for Men
For men, a classy and comfortable dress shoe should be a number one priority. Because the majority of shoe purchases are almost final, it is crucial to know before someone starts shopping exactly what kind of features in men's dress shoes offer the most comfort to their feet & no doubt, the following 5 products give the utmost comfort.
Clarks Men's Shoe
For the price point, these dress shoes are a great value. Amazingly comfortable and stylish dress shoes right from the beginning since the brand offers wide sizes also. The packaging was superb & everything was new. Undoubtedly, the cushioned insole & thick leather inside lining makes Clarks shoes super comfortable.
Due to the rubber soles, these shoes are extremely quiet. The best thing is that fit was perfect & as expected as compared to other shoe brands. The shoes held up very well & never leave the feet hurting. Moreover, the shoes have extra padding at arch support and heel which is great.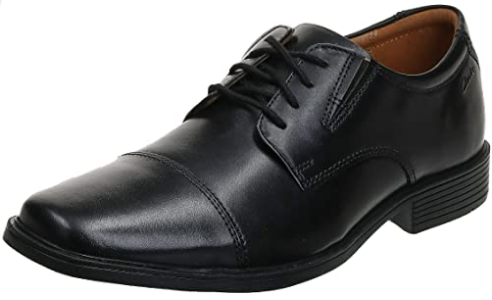 100% Leather
Imported
Thermoplastic Elastomers sole
Heel measures approximately 0.98″
And, since these dress shoes will be worn on an accessional basis, they must last longer than expected. Well, the only drawback is that the style is slightly long, more elongated towards the toe, so just be careful.
Pros
Ultra-lightweight
Durable outsole
Made of 100% leather
Premium quality components
Give the best value for money
---
Florsheim Men's Dress Shoe
This is considered an all-around perfect pair of dress shoes.  The styling, finish, and fit along with the attention to every minor detail are well above the expectations. The shoes are extremely comfortable, the leather is also soft & the lining on the inside of these shoes has a slight cushion, providing much-needed comfort. The most noticeable feature of Florsheim dress shoes is that they are highly recommended for all those with wide feet.
100% Polyester
Pull On closure
Hand Wash Only
UV & UPF 50+ PROTECTION
They can easily be worn during office hours without any problem. Even though it is more costly than other famous brands, but the shoes are excellent. The brown color is very attractive & stylish with dark highlights at the heel and toe. Here, I would like to mention that the heel is manmade. Well, the only concern is that the shoe tends to wrinkle on the area where you bend the toes sooner rather than later.

Pros
Classic style
Comfortable rubber sole
Perfect fit
Breathable lining
Ortholite comfortech insole
Cons
Cannot handle too much walking around
ECCO Men's Shoes
It is worth sharing that this shoe is surely the "shoe" for everybody who is looking for classic super comfortable shoes. Irrespective of comfort and fit, the best thing is longevity. In fact, ECCO men's shoes are hands down the extremely comfortable work shoes one can ever own. Moreover, in terms of stitching and quality, the shoes seem well put together. It gets good marks for foot safety and comfort, & apart from everything else, it is affordable.
Polyurethane sole
Removable leather insole
Direct injected, one component PU outsole with shock point
Features cow leather
You can easily wear them with jeans and dress pants & they simply work. Even after wearing them for more than 3 years, the leather still looks new. The shoe also gives the required heel and arch support that is best for pounding the pavement & trust me, your feet will never hurt. Truly appreciate the soft padding on the heel. But I would request the manufacture to work on sizing because it seems inconsistent.
Pros
Leather insole is removable
Synthetic sole
Made of 100% leather
Well-cushioned interior
Extra durable
---
STACY ADAMS Shoe
These cognac-colored stylish shoes are extremely beautiful. The craftsmanship or quality is truly what can be expected in this price range. Leather might be a bit snug at 1st but it softened up in a few days to form a proper fit. No doubt, this well-known brand has maintained its cool and stylish nature throughout. The best thing is that the shoe fits true to size along with an extended toe the wearer wants these to fit as close as possible.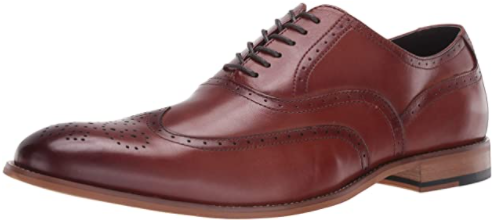 100% Polyester
Pull On closure
Hand Wash Only
UV & UPF 50+ PROTECTION
Make sure to get a matching belt because this wonderful color is quite unique, so I think not just any brown belt will match. On the other hand, sadly the design is not for everyone, there is some extra space at the front directly after the toes & and I found it rather distracting. But if you are okay with that kind of shoes then, go ahead & grab them.

Pros
High quality sole
Very durable
Lightweight construction
Breathable linings
Stylish & versatile shoes
Cons
Toe area is quite pointed
---
Rockport Men's Shoe
This pair of shoes merge class and simplicity with comfort and durability. In fact, these shoes are exactly what everyone should consider buying. A tasteful and cool shoe that is very dressy for work, water-resistant with a decent sole especially for wet weather. Moreover, they fit amazingly right out of the box. They go quite well with dark pants or even jeans.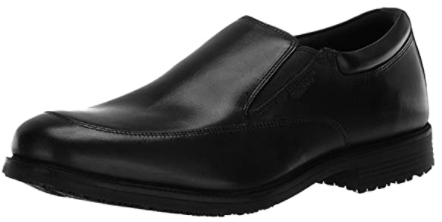 100% Polyester
Pull On closure
Hand Wash Only
UV & UPF 50+ PROTECTION
Truly loved the fact that the shoes are very lightweight & something that men can easily wear all day without any issue. After getting a cheap pair of shoes that ripped apart in a few months, the Rockport shoe fit the bill. No doubt, the shoes fit perfectly well & look great but they need a little more cushion so, it is better to get an extra footpad. Other than that, the shoes are great.
Pros
Waterproof construction
Long lasting performance
Comfortable and lightweight
Very well-built
Classy and durable
---
Buying Guide: Most Comfortable Dress Shoes for Men
Prospective buyers have to know what to look for in the dress shoe that will make it more versatile and comfortable, what type of leather is best according to the lifestyle and budget, & they also have to understand which brands have truly mastered how to drive in technologies that can make dress shoe stylish and comfortable in a way that does not make them odd looking. Therefore, I have created this buying guide to help buyers make wise decisions.
What Makes Men Dress Shoes More Comfortable?
There are some important factors that always go into making a decision concerning which men's dress shoes are best for you. Everybody wants the design to be stylish and smart but usually this might come without safety and comfort to the feet. Therefore, prospective buyers have to consider the following aspects:
Breathable Materials:
It is vital to mention that leather lining & a few synthetics let the feet breathe which will reduce perspiration & prevent blistering.
Cushioning & Soles:
Dress shoes usually have either a hard rubber or leather sole. When wearers make contact with the ground their running shoes always absorb the impact but their dress shoes do not, thus making them super comfortable. Moreover, do consider the rigidity and stiffness of the sole material. Leather can be hard & less comfortable whereas rubber is soft & more comfortable. For utmost comfort, ensure that the selected dress shoe has to cushion between insole and sole.
Stability:
Always remember that too much cushioning can reduce security & avoid ankle discomfort. Thus, a careful yet perfect balance will ensure that a wearer walks correctly.
Leather Types:
Well, leather dress shoes are not only leather dress shoes. However, those who are very serious about how the feet feel have to consider the different types of leather they are made from. The leather has 4 basic types:
Top grain leather
Full grain leather
Corrected grain leather
Genuine leather
Ankle Grip:
Few features including ankle collars or notches will ensure that your foot sits perfectly & securely in the dress shoe. Moreover, this can reduce rubbing & prevent the blisters from growing.
Which is the Best & Recommended Color for Men's Dress Shoes?
Currently, dress shoes for men are available in a wide range of textures and colors. But black and brown color dress shoes with & without little texture on them are the best ones as they can easily go with nearly all dress codes.
Conclusion
In the end, it can be concluded that one can make his personality presentable and impressive by simply wearing the most comfortable and stylish dress shoes specially designed for men. Undoubtedly, selecting the right pair of shoes is quite hard but now it is not. Because to make this apparently impossible task of getting the most comfortable dress shoes for men easy, I have curated a selection of well-known brands that can make dress shoes both versatile and ultra-comfortable.
So, whether prospective buyers are after a cap toe or wingtip oxford, they are guaranteed to get the dress shoe they have been looking for for a long time with one of the brands listed above.